Here I sit with three shabby sheets, four yards of lace, a set of lace curtains, and two tablecloths for the reception. My dear fiancé is quaking in his boots already. He has no idea how much weddings and receptions cost, I am keeping a tally to show how much LESS ours will cost in comparison to an average wedding and reception. I plan on making several garlands to hang around the house and backyard. My plans are based on shabby garland made with doilies, lace, and fabric flowers. The ceremony is being held in a small chapel a few miles north of here, and it's a historic building so decor will be conservative with no candles. I am planning a floral arrangement, pew cones and a small arrangement in the lobby next to the guest book.
I have a board on Pinterest. It has the links to the items, many of them for sale on Etsy.
Wedding Inspiration Board on Pinterest
I am going to make will vary on where they will be used, but this is the inspiration:
This lovely will be across the fireplace mantle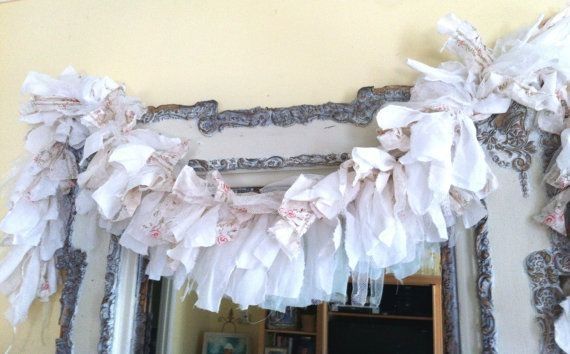 And a shortie over the mirror in the powder room
Update: I've finished one garland and here it is:
A little tweaking and it should be perfectly imperfect!