I'm afraid of using color on my walls. I come by this fear honestly. Years ago, after picking out what I thought was a warm beige paint and using it - it read as creamsicle orange on the walls of the spare room I used it in and from that day on I doubted my ability to pick paint (this was back in the old days when you had to buy a quart of paint to try it). Fast forward to today, where you can buy samples of paint. The house I bought has beige walls - and the brown tiles bring out a slightly greenish cast. I've heard Kilim Beige is the de facto standard for beige walls, I'm going to try a sample of that to use in the main living areas. And although I like gray, I just can't see myself with gray walls. OK, my house is stone and has a Tuscan feel to it. I want to take it more towards French Provincial but without the bright colors. In my quest for color, I get sidetracked sometimes. I think I can paint one bedroom Olive. Possibly. Maybe. Still on the fence. All the bedrooms have beige carpet, something I'm not prepared to replace at this time.
I was reading Jenny's blog, Little Green Notebook - she was the first decorating blog I started following - and she has a post about Olive walls. You can find her post here:
Olive Obsession on LGN
She uses a very light blue on the ceiling with the olive walls. Nice. She has a good eye for color.
I especially like this photo of a Harlem Brownstone. The colors are complimentary and I think the red and orange tones enhance the olive wall color.
I would like to try this in the future. There are so many projects ahead of it, but when I do I will share it with you.
Here is a list of tried and true color combinations. Notice one of them is like the photo above.
I've flirted with the idea of brown. Although this is a nice space, frankly I think it would look better with a dark olive instead:
I love purple/brown combos. I know I could find a way to incorporate the combo and have my neutral walls too: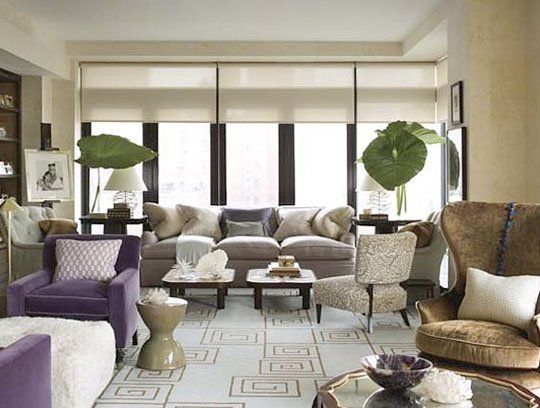 The thing to consider is how the light entering the room would change the paint color.
I found a web site that addresses this very important issue:
Using paint samples is a good idea, but remember the wall color next to the sample can affect how you see it.